There's something about winter that is simply so magical for fashion. We put away the off the shoulder summer tops or spring shorts and pull out the heavy furs and chunky cardigans. As a big fan of (fake) fur, chunky knits and all things long sleeves, what better way to pay homage to the joys of winter style than to make a wishlist?
As a disclaimer, this post will contain affiliate links from both Charlotte Russe (which I have gushed about before) and Amaryllis Apparel, which I am currently obsessing over, but have nothing from at the moment. If you purchase something from one of these links, I'll get a commission, at no extra cost to you!
It's super easy and all you have to do is click the link or the picture of the item! Even if you don't purchase anything, just know that these products still get the Tandra stamp of approval.
Charlotte Russe
Charlotte Russe is pretty popular over here in the U.S. but for those who are unfamiliar of it, Charlotte Russe is a clothing store much like Forever 21 or H&M. I like to describe Charlotte Russe as a more girlier Forever 21 with a huge selection of clothing suitable for going out or going to the club!
But, as I mentioned earlier, this post will be all about winter clothes on my wishlist! First up on the list are these wide-legged striped pants!
While wide-legged pants might seem more appropriate in the spring for some people, I think wide-legged pants are perfect for every season! These black and white pants can go perfectly with anything gold, gray and obviously black or white. On sale at $15.99, these are a great winter steal.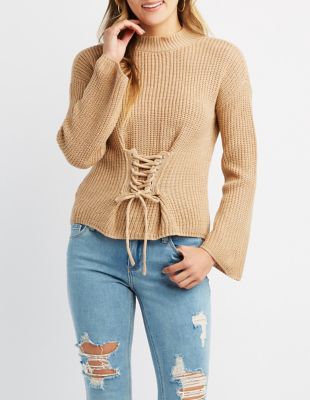 This adorable camel colored sweater is up next on my wishlist. I'm typically not a fan of ties and strings so close to my stomach like how they are in this sweater, but I'm love with them here. Not only would they go great with the pants pictured above, they'd also go nicely with flare jeans or some plain dark leggings.
Finally, there was no way I could end this portion of the wishlist without including at least one thing that had fur in it. This oversized fur jacket will not only keep you warm, but oh so stylish too.
I actually saw this very same jacket in my local Charlotte Russe but didn't decide to get it! Now I'm totally regretting it, even though I have more fur vests and coats than I care to think about. You (and possibly me when I get paid) can get this jacket for just $25.00!
Amaryllis Apparel
Amaryllis Apparel is a lot like Charlotte Russe, but more of an online boutique. Don't let the word boutique stop you though! Amaryllis is quite affordable for those of you on a college budget, or any type of budget.
Be sure to Shop Amaryllis
 and grab all these pieces I'm currently wishing was in my closet right now!
Just because the holidays are over doesn't mean velvet has to be over too! These Velvet Cropped Culotte Pants are the perfect classy addition to your wardrobe. It's currently way too cold to have anything but your face exposed right now, but these would be perfect to wear when it gets warm again!
These faux suede leggings are the last thing on my wishlist. I personally believe that suede is going to be in this spring, so what better way to get ahead of the curve by purchasing these lovelies! They come in camel, navy, gray and brown!
Trust me, there are a lot of other things I could put on this wishlist, but the length would've been outrageous. Still, I am satisfied with all of these pieces and hope you decide to pick them up!
Shop Charlotte Russe and Amaryllis by clicking on the banners below!
What are some styles you're eyeing this winter? Share them in the comments below!
Until next time,
Related posts: